If you do not feel like cooking, then nowadays people have a complete menu in a single click. By ordering online, anything, anytime, reaches your home comfortably.
One such online food delivery company is Zomato, which has won the hearts of many people with its service. Now the WhatsApp chat of this company has been leaked. In which important talk is going on between the CEO of the company and the people of the rest of the department regarding the company. The name of the group in which the talk is going on is Zomato B'day Month. In this group, the CEO of the company first asks that Zomato's birthday is the month, so how are we going to celebrate it?
What idea did the team give?
In response to this, the marketing team says that 10 days off should be taken. On this the CEO asks how are we going to celebrate it with our customers? Only then comes the message of the growth team that they give a big discount. Something we don't often do, like 60 percent off? (60 percent off). To this the finance team replies that it is a good idea. We can offer 60% off on Birthday (July 10). This time the reply of HR also comes. HR says, "That day is Saturday, why not offer weekend offers? It's going to be fun"
Zomato chat leaked (Image- Zomato)
On this, the finance team asks that hopefully you people will not be serious about this.
Zomato's chat leaked, important things related to the company happened in the group (Image- Zomato)
Also read- Tea Lovers: The woman did such an act with tea, people could not tolerate
Further, the Tech team also gives its opinion and says that 13th birthday means the offer which is valid for 13 days. In response to this, the finance team, while giving a Sarcastic reply, says that why only 13 days, they keep this offer for the whole month. Immediately on this comes a message from the CEO that Great Idea is offering 60% off for the entire July. After which the growth team becomes happy but the finance team leaves the group.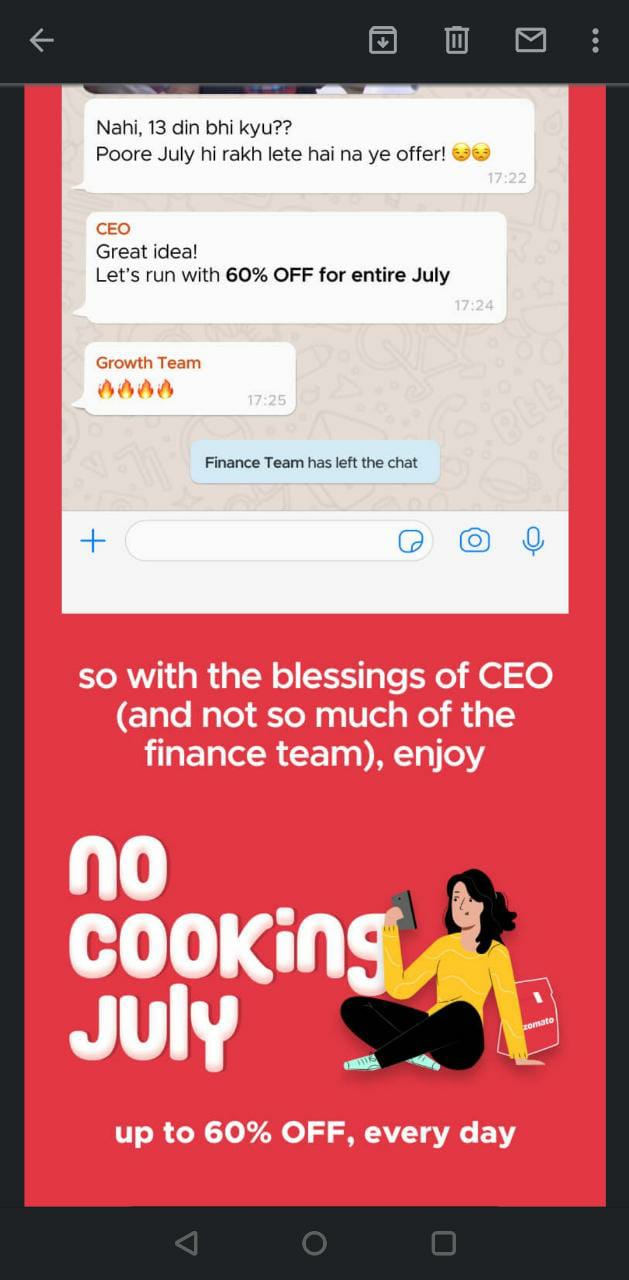 Zomato's chat leaked, angry group member left the group (Image- Zomato)
What's the matter?
Actually, this whole chat is a creative idea prepared to promote one of its offers. Which Zomato has sent on the mail to reach its customers. The subject of which is 'Leaked! Zomato's WhatsApp Chat is written (LEAKED! Zomato's WhatsApp Chat). According to the information, on July 10, Zomato will complete 13 years. On its birthday, this company is giving special offers to its customers. For which this strategy was created. This strategy is so creative that it is easily attracting the attention of the people.