Indian wrestler Bajrang Punia weds Sangeeta Phogat married Sangeeta Phogat on Thursday, both of whom married in traditional style in Balali village in Haryana.  Wrestler Sangeeta Phogat, younger sister of Dangal Girl Geeta and Babita Phogat, and Padmashree Bajrang Punia (Bajrang Punia weds Sangeeta Phogat) tied the knot.
The wedding took place in a simplistic atmosphere late Wednesday night in village Balali in Charkhi Dadri district. In this, the number of guests was limited due to Corona virus infection prevention guidelines. After marriage, both the stalwarts of the wrestling field were quite happy about their new innings in life.
Bajrang and Sangeeta took 8 rounds
Bajrang Poonia, a native of village Khudan and a wrestler currently living in Sonipat, arrived with only 31 baraatis to take Sangeeta's doli to her house on Wednesday night. A total of 50 to 60 guests were called from both sides in village Balali.
After all family, social, folk traditions related rituals like Lagna, Gorwa, Ghoochadhi, Varmala etc., Sangeeta and Bajrang took eight rounds instead of seven. Like elder sisters Geeta and Babita Phogat, Sangeeta too took the eighth round as a pledge for 'Beti Bachao, Beti Padhao'.
Sangeeta's father wrestler Mahavir Phogat said that he is suffering a lot while leaving his daughter from home, but it is necessary to follow the rules of the world. Along with this, he is happy that his daughter Sangeeta is going to a good young man like wrestler Bajrang Punia and his cultural family.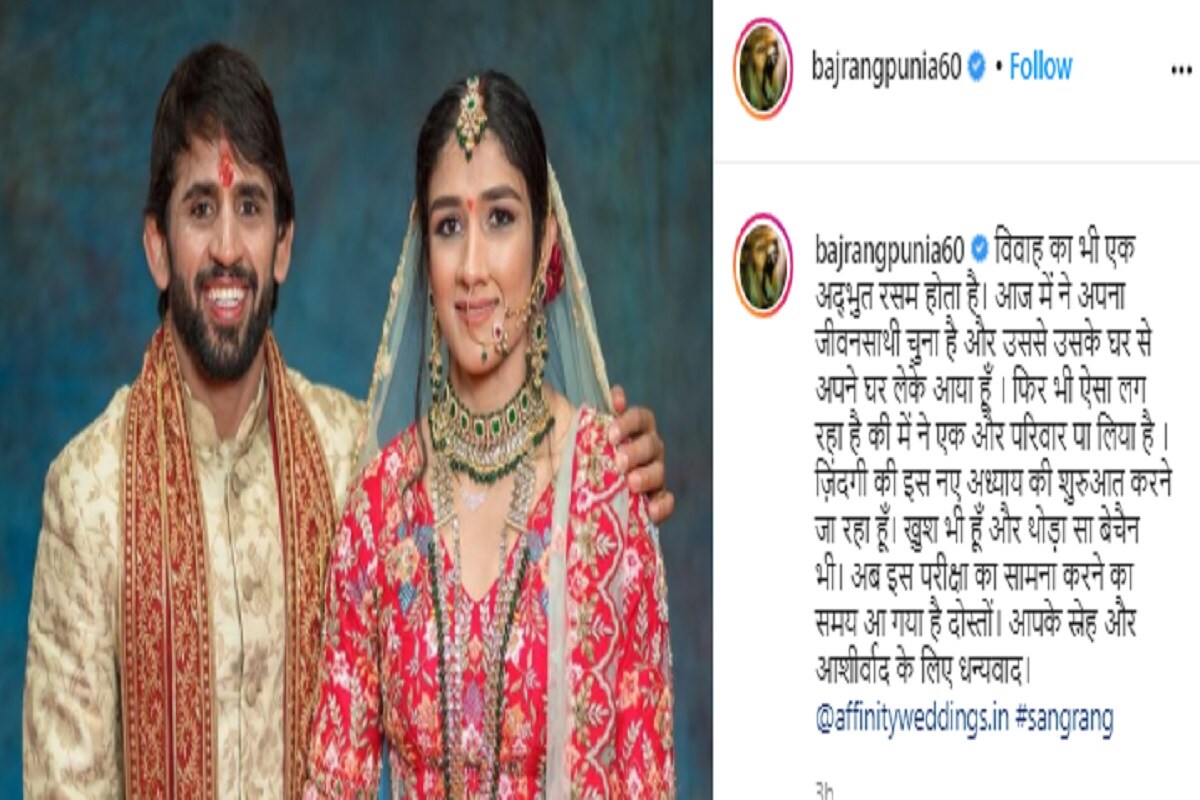 After marriage, wrestler Bajrang shared his feelings on social media. He wrote, 'Marriage is a wonderful ceremony. Today I have chosen my life partner and have brought her from her house to her house. Still it seems that I have got another family. I am going to start this new chapter of life. Happy too and a little restless too. Now it's time to face this test, friends. Thank you for your affection and blessings. ' (With language input)