New Delhi. Amitabh Bachchan, known as the Bollywood superstar, has been ruling the industry for years. Even today he works with warmth. Apart from acting, Amitabh Bachchan fashion statement also collects a lot of headlines. However, once due to his fashion, people felt that Big B had lost his eyesight. This has been revealed by Amitabh Bachchan on social media.
People felt that their eyesight went down
Amita Bachchan has shared her one-year-old photo from her Instagram account. In this, he is seen wearing sunglasses. Also, he is seen in a stylish jacket. His retro look is very much liked by the people. But Big B has told a story behind this photo. He said that in those days, spectacles were not a fashion in public. In such a situation, when he wore these glasses, people felt that his eyesight had gone.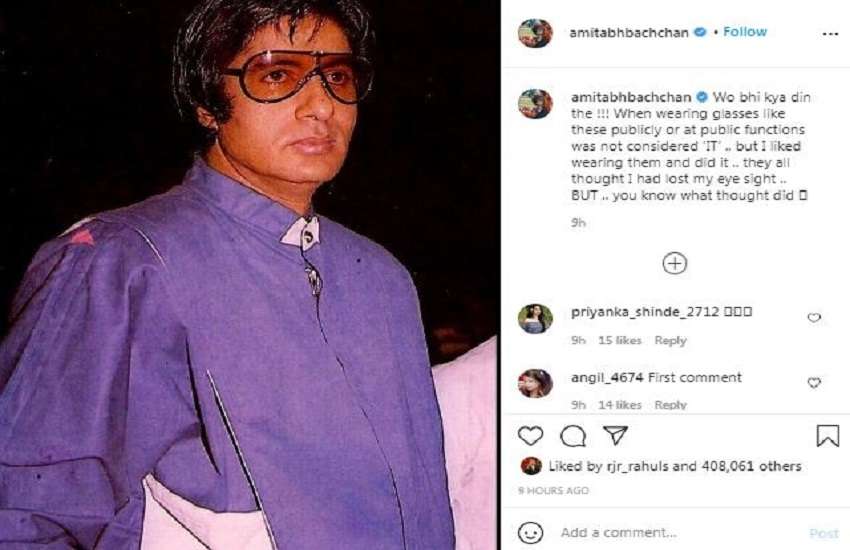 'What were those days too'
Amitabh Bachchan wrote in the caption with the photo, 'What were those days when wearing such spectacles in public or in public ceremonies was seen as such .. but I loved wearing glasses and I used to wear them. Everyone felt that my eyesight had gone. But … you know exactly what happened. ' This post of Amitabh Bachchan is now becoming quite viral on social media. His post has garnered over 4 lakh likes. At the same time, actor Ranveer Singh has created an emoji with King's crown on his post.
Many films will be seen
Please tell that Amitabh Bachchan is very active on social media. He keeps sharing his pictures, thoughts and poetry with the fans, which people like a lot. Talking about the work front, Amitabh Bachchan will be seen in many films this year. A few days ago the trailer of his film 'Faces' was released. It stars actor Emraan Hashmi and Riya Chakraborty in the lead role. Its release date has been postponed due to Corona. Apart from this, he will also appear in important roles in films like 'Jhund', 'Mayday', 'Bye', 'The Intern' and 'Brahmastra'.