Toofan Review: Big lives are either built or completely destroyed in search of motivation. The question is not about someone's or anyone's guidance, the question is the ability to look inside yourself and judge your ability to be right, without wrapping or forgetting yourself. Many talents in the field of play were lost quickly because they understood their potential too much or because of the benevolence of a loved one, the attention was diverted from the game. There have been many players of India who started very effectively but after tasting success, ended their existence in all the distracting activities other than sports. There have been fewer such stories when a player diverted his attention from the game and then became successful again after being scolded by someone. The biggest weakness of the story of Toofan released on Amazon Prime Video is the villain of the hero and becoming a hero again. Although this happens in every sports drama film, this case could not raise a storm in anyone's heart in the storm.
The famous English novel writer Harold Robbins published a novel in 1952 – 'A Stone for Danny Fisher'. It is the story of a boy battling poverty, who is deeply in love with boxing. Taking the motif from there, all the films made on boxing so far, such as Mithun Chakraborty's Boxer, Dharmendra's own, Clint Eastwood-directed Million Dollar Baby, R Madhavan's Saala Khadoos, seem to have tried his best to be a little influenced. It is not the fault of the writer or the director. The format of a sports drama film is almost the same. If we look at the example of Rakesh Mehra's 'Bhaag Milkha Bhaag', then if it was not for the case of Milkha Singh being a biopic, then that film would hardly have been so acceptable. Toofan sounds like a film that might have missed out on a bronze medal by a couple of points.
Farhan Akhtar is in the lead role in the film.
There is a strange bitterness running in Rakeysh Omprakash Mehra's films, of riots or discrimination in the name of caste-religion. Rakesh Mehra, who sells vacuum cleaners, has seen life very closely, observed different people. From there he got the idea of ​​making films. The first few ad films were made and his creative vision was highly appreciated. While working, he reached Amitabh Bachchan with whom he made many commercials for BPL television. Due to this familiarity, Rakesh told Amitabh the idea of ​​the film 'Aks'. Amitabh liked the idea and made a very good film. The film didn't work. Rakesh had gained experience in making feature films, so he made Rang De Basanti a few years later with Aamir Khan, Siddharth, Sharman Joshi and Kunal Kapoor. For the first time in this film, the issue of Hindu-Muslim fight was shown in a very bitter way in the film. After this this issue also came up in Delhi-6 and through the tragedy of Partition in Bhaag Milkha Bhaag, this issue came to the fore. Some big stones in the foundation of the storm are communal. These stones pierce the feet of the story, sometimes they seem unnecessary and sometimes they are too much. The hero in the film is Aziz Ali alias Ajju Bhai (Farhan Akhtar), a resident of Dongri, a Muslim and crime-dominated area of ​​Mumbai. What could be more prejudice than this?
Even if there is something stormy in Toofan, it is Farhan Akhtar's hard work to get the stature of the character, his passion to become a professional boxer by learning boxing. Farhan must have spent many times more sweat and sweat in becoming Aziz Ali as Toofan than the amount of sweat he had shed in body building for the character of Milkha Singh. In Milkha he was lean but muscular strength was visible in the body, he has increased his weight in the storm, the body is heavy and the muscle mass is also like that of a professional boxer. Apart from this, his character is weak. He has not done anything special in acting either. He has acted better than this in other films. There are a few more expectations from Farhan. His spontaneity was not seen in this film.
The second main character is that of Paresh Rawal i.e. Prabhu, who holds a politically opposite ideology from Farhan in personal life. Paresh has found the way to Parliament from the Bharatiya Janata Party. His character in the film almost hates Muslims. The reason is personal, but their tendency to apply it to the whole society is clearly visible. In personal life, two actors with opposite political ideologies, in a film, work together under the leadership of a director and do not allow their differences to turn into fanaticism. People suffering from current politics should learn this from Farhan and Paresh. Paresh Rawal's character appears to be more affected by personal animosity stemming from religion than by coach wrath, and his behavior remains unchanged for almost the entire film. Paresh Rawal also seems convincing in this role, as he seems in every role.
The heroine of the film is Ananya (Mrunal Thakur). Mrunal Thakur, who started her acting career with television, has a pleasant and cool breeze in Toofan. Mrinal looks quite innocent from the face and remains untouched by the bitterness inside her father i.e. Paresh Rawal. His arrival brings some relief in the film. His character is predictable. It is decided in the first scene itself that there will be love, there will be some dispute in love, then the heroine will have to write the story of the hero's motivation and the heroine will have to cry more. There was no chemistry between Farhan and Mrinal. Sonam Kapoor and Farhan jodied together in Bhaag Milkha Bhaag, possibly since they knew each other since childhood, so there was no discomfort between the two. Farhan seems to be a strange pair with Mrinal.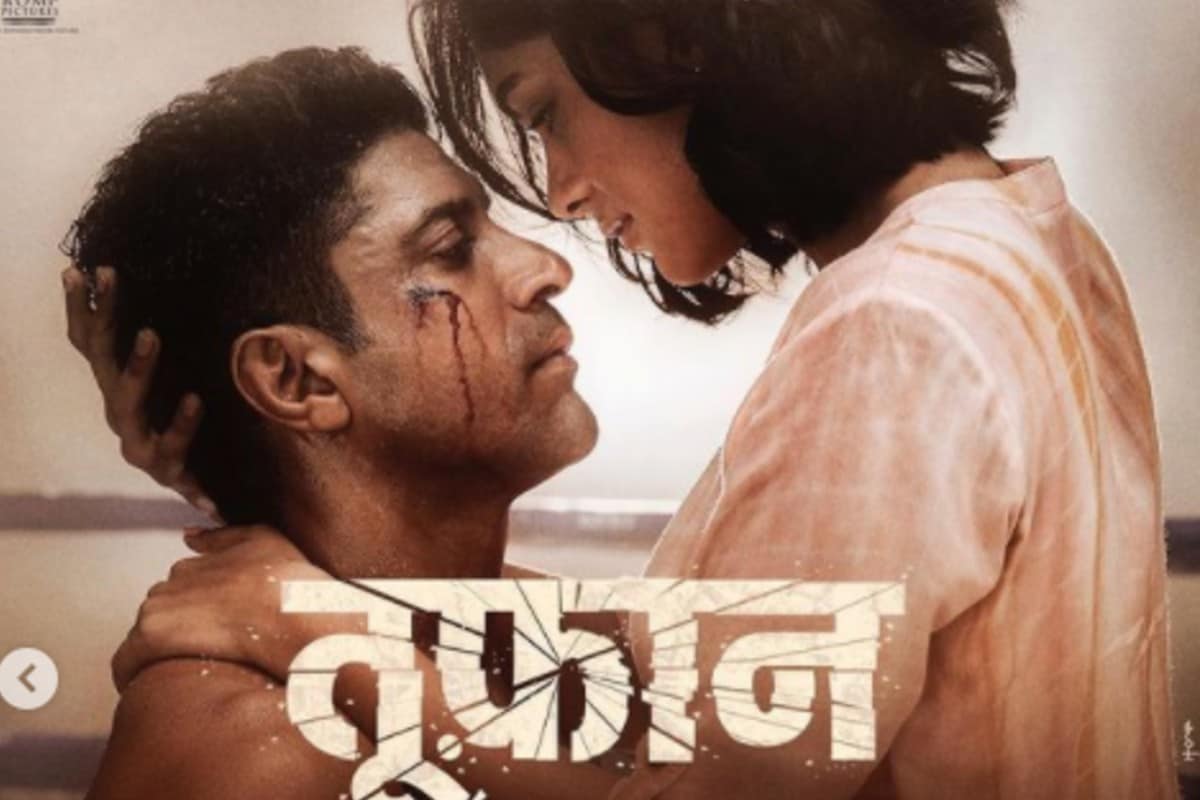 There are many such elements in the rest of the film which we call 'filmi'. Aziz Ali is a goon but has compassion for orphans. He calls boxing champ Mohammad Ali as Mohammed Ali Bhai. Along with Aziz Ali, he also has a disciple, Munna (Husain Dalal). Like Salman Khan's Sultan, the hero, who is defeated by the forces of life, gives up his body building and spreads wildly. Like Sultan, he rebuilds his body and gets down to boxing. Mrinal Thakur's father has become Paresh Rawal and he is also annoyed by the fact that his girl is in love with a boy from a vagabond. Farhan Akhtar has initially become a petty politician and extortionist goon but he takes a lot of dancing and singing, like a common Hindi film hero.
Music by Shankar-Ehsaan-Loy and lyrics penned by Javed Akhtar. Unfortunately, despite having good lyrics and good melody, the songs did not get priority due to release only on OTT. Toofan title track is lively but has little impact. At the same time, two more music directors have also composed a song for the film. Dub Sharma Ka Todoon Tak is a Mumbai language song. Nice but hard to remember. Arijit Singh's song composed by Samuel-Akanksha is also fine but could have been better.
Cinematography is by Jai Ojha. Even before this, he has shot Excel Entertainment's Gully Boy and the web series Made in Heaven. In this film, it does not appear that he has taken special care of any color scheme. Because of this, the film has been shot in a commercial style and its art seems to be knocked out somewhere. Editing is done by Meghna Manchanda Sen. Their contribution can be considered in making the story unwieldy. The film drags on, round by round and no one is ready to give up. The general audience can tell the scope of cutting 20-22 minutes in the film, to keep the narrative tight of the film, it was necessary to sacrifice some long scenes but it remained. Before this, Meghna has been the editor of tight films like Omkara, Kaminey, Udta Punjab and Sonchiriya.
Story of the film – The responsibility of the script was in the hands of an experienced person like Anjum Rajbali. Anjum ji's script was behind almost all the successful films of Prakash Jha and apart from this, Anjum also teaches script writing. In the storm, the script seems to have become excessively big. The dialogues of the film have been written by Vijay Maurya and after Gully Boy, he has again written a lot of dialogues in Mumbai Hindi considering the background of Dongri, but this time the matter did not look as effective. Some dialogues were strange.
Well, being Rakeysh Omprakash Mehra's film, there is no dearth of entertainment in the film, but the storms that had arisen for the last one year due to the storm turned out to be as calm. Before the storm there is peace and after the storm there is silence, this time the storm itself is silent. Farhan Akhtar's character part and Mrunal Thakur's innocence removed, the film is very ordinary. Such films have been made in the past and will continue to be made in the name of sports drama. The question will remain that in the storm, a boxer is made to earn respect, maybe some other reason will come in some other film but the flow of the story will remain the same. It is the weekend, take a look because nothing else is looking so good in the freshly released content.
Read Hindi News online and watch Live TV News18 on Hindi website. Know news related to country and abroad and your state, Bollywood, sports world, business.