There are many couples who want to keep the thrill in their relationship like the beginning. They want that love and romance between them increases with time. To increase this romance, people try different types of tricks. A man also did an experiment with his wife to improve his sex life, but his experiment backfired. Due to which he has to suffer for the last 3 years.
There is an account on the social media site Twitter 'Feeshole' on which people tell the secrets related to their lives in front of the public without revealing their names. This is a confession page. Recently, the confession of a person has been shared on this account, whose name is not mentioned, but after reading his confession, other men are also sharing their experiences related to their lives. Actually, the man wrote in his confession that whenever he and his other half ie his wife used to have sex, he always used to initiate the romance and after that both used to have sex. He thought that he would not start the romance anymore and would give a chance to his wife to start (Wife initiating Sex with Husband). He did it as an experiment to let him know that his wife wants as much romance as he wants in their relationship. But everything turned upside down with the person and now he is facing the bad consequences of this experiment for the last 3 years (Man hasn't had sex with partner in three years).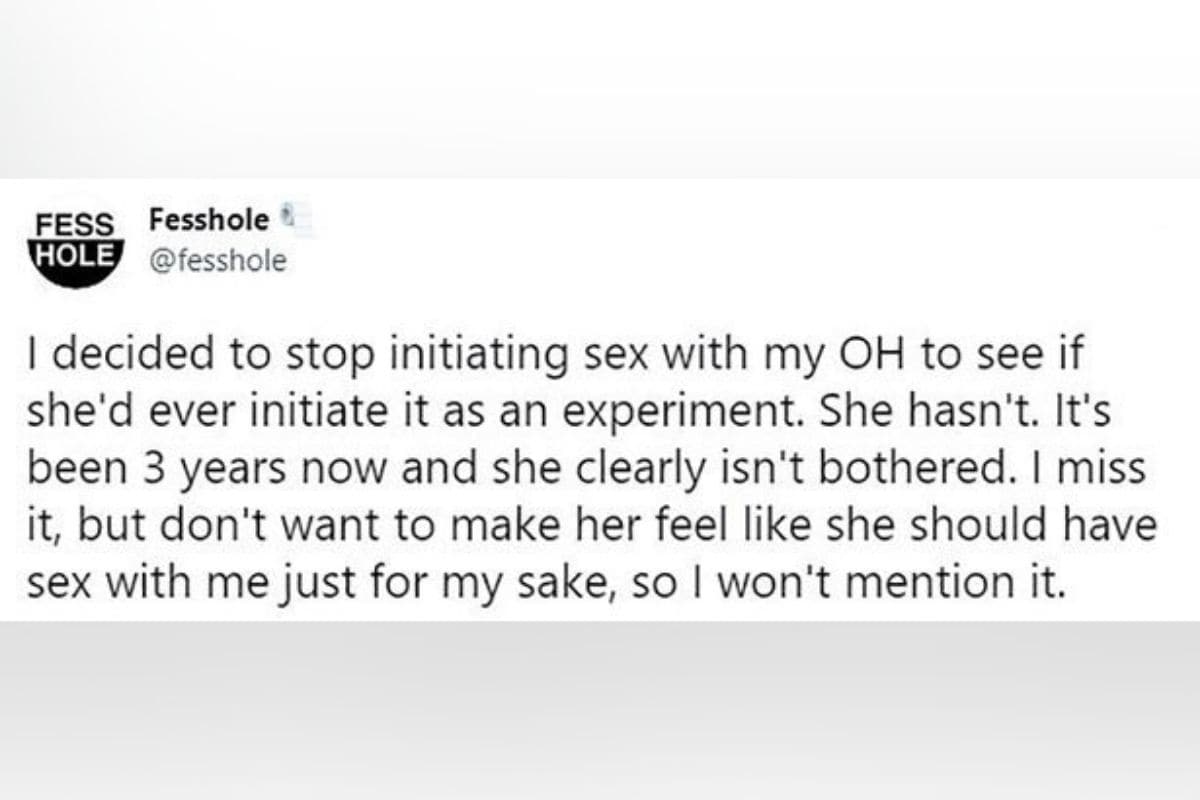 Photo: dailystar.co.uk
The man did this experiment so that his wife would start the romance, but the result turned out to be the opposite. It happened that the wife never started with herself. The man kept giving her a chance, did not tease her about having sex, but the wife did not mind. Three years have passed in doing this and the husband and wife have not had sex for the last 3 years. The man wrote in his post that he misses romance with his wife a lot, but now he does not want to do anything forcibly with her, without her consent. The man said that he does not want to force his wife to do anything just for her own happiness, so he himself does not say anything to his wife about it.
After listening to this person, other men also started telling their condition. One person said that he and his wife have had sex for 15 years while the other said that he is not even 50 years old and his sex life is over. Apart from this, some people advised the person that he should talk to his wife and know her feelings as well as explain her feelings to her. While another user commented that he should divorce his wife because this proves that she is not interested in him. A man has even said that perhaps his wife has some kind of misunderstanding and she has started thinking that her husband has become impotent. Because of this, she would not want to embarrass her husband by having sex with him.
Read Hindi News online and watch Live TV News18 on Hindi website. Know news related to country and abroad and your state, Bollywood, sports world, business.