Sonu Sood (Photo courtesy: Instagram @sonu_sood)
Sonu Sood tries to provide every possible help to every needy. Recently, he helped a person get a liver transplant.
New Delhi
Sonu Sood is a real life hero along with the cinematic screen. He now lives in the hearts of common people due to his generosity. When people have no hope from anyone, they remember actor Sonu Sood. Sonu also tries to provide every possible help. The caravan to help started from lockdown is still going on. Sonu Sood Help These days, many sick people are seen getting treatment.
It would not be wrong to say that Sonu Sood has come out as the Messiah for the needy. Recently, Sonu Sood gave a new life to a person on his plea. He provided the facility of treatment to the man at the right time. The person tweeted and told Sonu, 'Sir, how can anyone lose courage while you are. You have given a new life to the whole family. Hope to see you soon thank you sir.
@sonusood Sir, how can anyone lose courage while you are. You have donated a new life to the whole family. Hopefully, you will soon have thanks u ❤️.@sonusood @GovindAgarwal_ https://t.co/6sf7sZbRLt pic.twitter.com/GvZOQ6qhcP

– Deepak Verma (@meetvermadeepak) March 21, 2021
Sonu Sood had the person's liver transplanted, after which the person shared a video saying, "Because of Sonu Sood, I am able today to go to my house from Aram, so I thank you very much Let me tell you, Sonu Sood had treated Govind Agarwal, after which he is living a happy life today. Recently, the actor made a tweet in which he wrote with a video – 'Yeh hui na baat. congratulations.'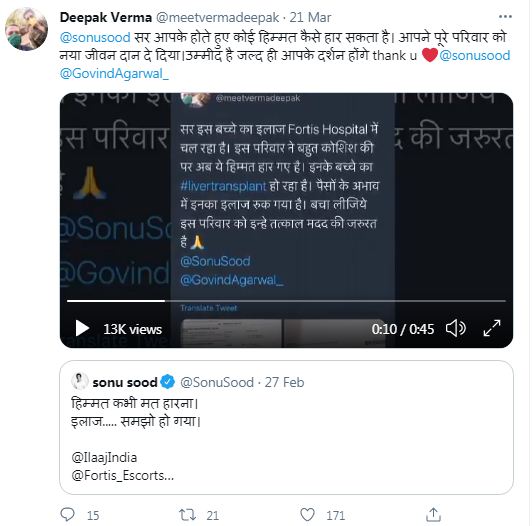 (Photo courtesy: Twitter / Sonu Sood)
Even now many of his fans contact him on Twitter for help. They have so far given medical bills, education fees and house rents to unaccounted people. Talking about work, Sonu Sood will be seen playing the lead role in the film 'Kisan' in E Niwas. The film is being produced by Raj Shandilya, who directed Ayushmann Khurrana-starrer Dream Girl. Sonu Sood is also playing a special role in the film 'Prithviraj' along with Akshay Kumar.