Our country will be celebrating 75th anniversary of its independence and what better film could be on this occasion than the biopic of Captain Vikram Batra, one of India's bravest soldiers. Amazon Prime Video has released the film 'Shershah' by Dharma Productions and Kash Entertainment. The protagonist of the film is late Vikram Batra played by Siddharth Malhotra. There is nothing novelty in a war biopic as the story is straightforward but Siddharth has played this role with full vigor. Not only the entire country but also the family of the late Captain Batra will be very proud of him. "Sher Shah" is a film in which you know everything, yet it is its own fun to watch. That is the power of film. A story that we have heard many times, yet we cannot describe the temptation to give it on screen. A war biopic could not have been made better than this.
Captain Vikram Batra belonged to Palampur, Himalayas. He has 2 sisters and a twin brother, parents were teachers in a government school. He was courageous since childhood and very soon he had decided that he would join the army. Ishq happened while studying in Chandigarh college and Vikram, the best cadet of NCC, got a chance to choose between Merchant Navy and Army. In 1996, took the CDS exam, did 19 months of training and after leaving IMA, got selected for 13 Battalion, Jammu and Kashmir Rifles and from there got posting in Sopore area of ​​Kashmir. Many times there were encounters with terrorists, Vikram continued to advance in the army and then the Kargil war happened. First the capture of the top of Point 5140 where he was made Captain and soon after that the Captain moved with his battalion to capture the top of Point 4875.
High hills where Pakistan had built its bunkers above and occupied the bunkers of India. Captain Vikram Batra bravely and bravely led his soldiers and comrades moving forward, and while attacking sometimes two-sidedly and sometimes three-sidedly, the soldiers of the Pakistanis started killing them. On one occasion, he clashed with 4 Pakistani soldiers without weapons and killed them. Some of his companions were injured, but Captain Batra continued on. Finally a bunker was left from where Pakistani soldiers were firing continuously. There was only one way to stop them, attack from the front. Vikram, not caring about his life, stopped his partner saying that he is married and Vikram is a bachelor. Vikram proceeded alone and continued to bear the bullets on the chest but died only after eliminating the Pakistani soldiers. Captain Vikram Batra was posthumously awarded the Param Vir Chakra, the Army's highest honor. His fiancee Dimple Cheema has not married till date. Captain Vikram Batra was an immortal soldier and was such a son of India who always considered the country bigger than himself and sacrificed his life for it. Before dying, he saw his battalion hoisting the tricolor at point 4875 and then closed his eyes.
Everything in the story of the film has been taken from Vikram's life, yet it has been inserted by Sandeep Srivastava in the script. Vikram's life was not a film story but a reality, so there was no scope for the script to be dramatic. Code name Shershah, Yeh Dil Maange More, I will come after hoisting the tricolor or I will come wrapped in the tricolor like the dialogue Vikram himself had spoken, so Sandeep did not have any trouble. The director of the film is Vishnuvardhan imported from the Tamil film world. He used to work with award-winning cinematographer Santosh Sivan at some point and later went on to wield his weapons as an assistant to many successful directors. Most of the films directed by him have been super hit and hence Karan Johar entrusted him with the responsibility of directing this film.
Kiara has played the character of Dimple Cheema.
Earlier, Karan Johar's Dharma Productions had to face a lot of criticism for Gunjan Saxena's biopic. This time he did not want to take any risk, so to make the film authentic, complete guidance was taken from General Joshi, Indian Army and Vikram's family. The army had deputed its two majors on the sets of this film, who were watching everything closely. Vikram's brother Vishal Batra gave complete information about the family and gave many personal information about Vikram, due to which the truth was also seen in the film. Emotions are often shown in patriotic films in such a way that for a while it seems that why so much drama is being shown. Sher Shah is quite honest in this matter. Nowhere does it seem like an overdose of patriotism.
Sidharth Malhotra had fought his life for this film and had been busy preparing for this film for the last several years. He along with Vishal Batra, spent a lot of time with Vikram's friends and family and tried to understand Vikram. Since Siddharth goes to college in the 90s in the film, Shahrukh Khan's shadow is clearly visible on him. Siddharth has done wonders in the role of a clean boy at heart. Vikram did not care about life, but he did not want to see his companions die. Siddharth also left no stone unturned to become Vikram. Not only did he work hard for the character, attended army camps, but he went everywhere from where he could get any personal information about Vikram from a person. This is an artist's commitment.
There are more actors in the film. Kiara Advani has got a small role but is very powerful. He has also done it in a very beautiful way. When she comes running to Vikram's funeral, the expression of infinite sadness that has come on her face, the audience cannot hold back their tears. When the tricolor and cap of Captain Vikram are given to the parents of Captain Vikram, even the biggest stone hearts must have melted. Not only a single colleague of Vikram's unit was saddened by Vikram's departure, but the mountain of losing the most brilliant officer and best friend of his unit with him, he is spending the rest of his life with him. In the rest of the characters, Shiv Pandit has played the role of Army officer Sanjeev Jamwal "Jimmy". Shiva has appeared on the big screen after a long time and how his act of becoming hard as a coconut breaks in front of Vikram's vitality and then when he himself breaks on Vikram's death, Shiva takes his acting to a new level. carry away.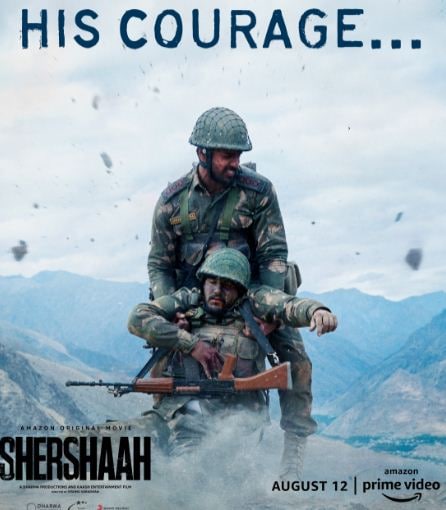 Sher Shah.
Similarly, the role of Niketan Dhir Major Ajay Jasrotia and Shataf Figar ie Lt Col YK Joshi was brief but effective. Subedar Raghunath, who has been the shadow of Vikram from beginning to end, the pain that emerges on seeing Vikram firing bullets in front of him, shakes him to the core. The actors who played other soldiers and officers also did not allow the film to become a propaganda film with unnecessary slogans and speeches of patriotism. His wet eyes and silence were enough to make the last few moments of the film heavy.
The role of music in the film cannot be ignored. Both the songs performed by B Praak impressed. At the time of Vikram's funeral and funeral, B Praak's loud voice pierces his chest like a spear. Even after the film is over, this song remains a shadow on the heart. Asees Kaur and Zubeen Nautiyal's Duet Raatan Lambiya is very melodious. The songs of the film are becoming more popular after the release of the film.
It is very easy to find flaws in this film because every war film in the world is like this, similar incidents happen in a biopic made on a soldier. Similar things have been shown in JP Dutta's films too, but the reality is that there is no religion bigger than the country in military families. No one can understand where these things come from in those families. Today, where the youth of the country is eager to earn lakhs, is engaged in the jugaad of air-conditioned vehicles and houses, is hesitant to do any work, Captain Vikram Batra's life is such an inspiration that every household in India sees Inspiration can take birth.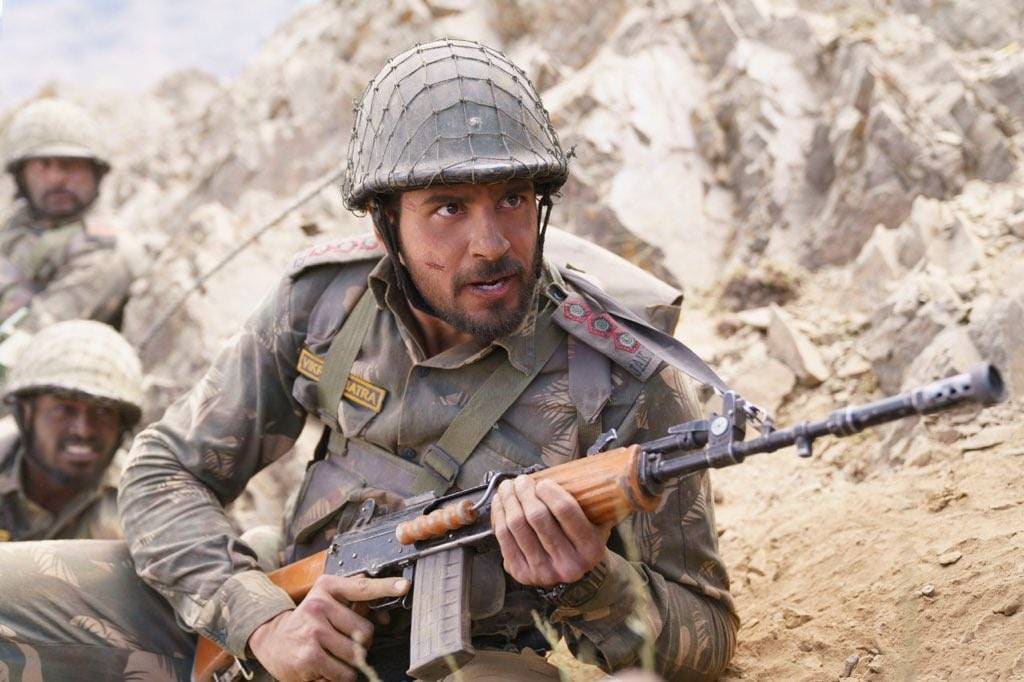 Siddharth Malhotra as Captain Vikram Batra.
Sher Shah is a Sher type film. There is no exaggeration of feelings. Even on the death of Vikram, his family members do not give free speeches of knowledge. The film is shown from the point of view of Vikram's brother, so he appears only at the beginning and end of the entire film. They also do not look at the film from the point of view of redemption of martyrdom. One should think about the family whose young son was sacrificed for the country at the age of 25 while taking bullets on his chest. The film is for all the soldiers and soldiers who lived in the fields in the Kargil war, who gave their lives, protected the borders of the country and got their land back.
Don't watch a movie just because of its purpose and making it. Just see that even today in the soil of India, there is that power where flowers like Captain Vikram Batra bloom so that this Gulshan can remain inhabited.
Read Hindi News online and watch Live TV News18 on Hindi website. Know news related to country and abroad and your state, Bollywood, sports world, business.