Saina Review:
Creating a biopic on someone who is awake does not end with danger. There are many people who have seen and understood that personality closely. These people do not tolerate even a small mistake. The film Saina, starring Parineeti Chopra on the life of badminton player Saina Nehwal and directed by Amol Gupte, was recently released on Amazon Prime Video in the episode of making films on the players' lives. Prior to this, the film was also engaged in theaters for some time. Because of Corona, there were fewer visitors to the cinema hall. After Sachin Tendulkar, Saina Nehwal is the Indian athlete who inspired children to pursue a career in sports. Saina became a role model, became a youth icon and she became a champion. Saina's fan following is still strong. As in the biography of every successful sportsman, the support of parents and family and sacrifice, hard work, sacrifice before merit of Brahma Muhurta and sacrifice of deeds in the penance of merit building and blessing of the gurus. This is all in the film Saina. Saina, the daughter of a combative and combative creature in the Jat family and a diligent father, grew up with her mother's love of badminton. Whatever shot life played towards him, Saina's mother taught Saina how to play that shot. Her father wakes her up at 3 am and takes her to teach badminton 25 kilometers away from the scooter, her sister silently sacrificing her, smiling and laughing at Saina with only a few special friends, without giving up with a focus coach like Pullela Gopichand , Practice constantly scolding and beating a variety of national and international players with a bang and then one day falling down from the summit, handling the fall and climbing to the summit again … Saina's biopic is there.And most Great thing, that's only what is in this biopic. All the drama that could have been done in Saina's life has been put into this film. No anecdote was created, no anecdote was created, nor was any story composed. Like Saina's cross court smash. Fast, powerful and effective. What has not happened in this biopic is not to have an emotional connection with the main character. The film is good Youngsters will like it, it is right to make young children aware of sports career. Saina's struggle was seen in the film but did not feel. The audience's throat was not stitched. His victory was his victory, but less, his defeat was left only to him. Manav Kaul (Rajan sir) in the role of Pullela Gopichand was not even hated and could not fall in love with Ehsaan Naqvi in ​​the role of Parupalli Kashyap. This is the week point of this film. The biopic always captures a dramatic story, in which either the main character falls in love or is absolutely hated. Both could not be done with Saina. The story is written by director Amol Gupte himself and the dialogue is by Amitosh Nagpal. In films, especially biopics, there is a story of catharsis, nostalgia, memories, struggles to be conquered, victories faced through difficult situations. Whatever is in Saina, the emotional connection did not feel to the audience.
Parineeti accepted this role when Shraddha Kapoor expressed her inability to do this film. Parineeti's performance is good. Parineeti has played the character of a naïve girl in a rambunctious style. Meghna Malik has done a lot of acting in the role of mother, but no public appearances of Saina's mother have been seen, so perhaps this drama filled character was necessary. Shubharajyoti Bharat and coach no. In the role of father. Ankur Vikal as 2 has done a good job. In the film, Kaabil-e-Praise has been acted by Naisha Kaur Bhatoye, who is a little Saina. Naisha herself is a national level badminton player and was discovered by Shraddha Kapoor. He has no future in acting, but no other better artist could be found for this role. Manav Kaul was once again impressed. The production of the film was heavier than the story of the film. Shraddha Kapoor had worked hard after signing the film and after learning the badminton tricks, she started learning Saina's style as well. One day he suddenly left the film, citing his health. At the same time, the producers said that Shraddha is not giving prominence to this biopic, so Parineeti is being taken. Parineeti also copied everything in learning badminton and catching a racket like Saina / her standing…. But if the story is predictable, then whatever you do, it will not matter. It took 5 years to make a film. Maybe because of this, while working on the story, the director also got tired and he made a film. There is no innovation in direction. After films like Taare Zameen Par and Stanley Ka Dabba, Amol's Saina disappoints. A social message like "the whole family contributes to the success of the player" was also put in the film, which does not seem to make any effective contribution to the film's story. Saina's mother first fought for admission to the camp and then Saina's father took a loan from PF to buy shuttlecork for her daughter's expensive, apart from these two incidents, nothing was revealed. The music of the film fit the story but it is difficult to say if a song becomes a hit. Armaan Malik has taken over the reins of music, and "Chal wahi chalen" and "Parinda" are good at listening and understanding. Both songs have been written by Manoj Muntashir.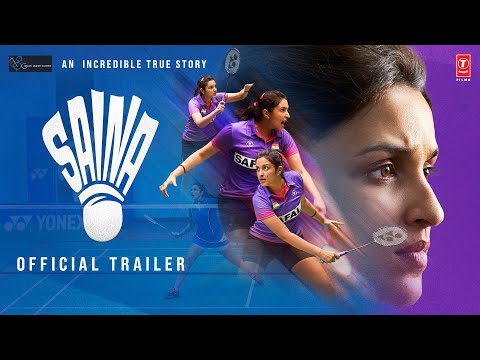 The film is predictable. There is nothing new in the film. Still, Parineeti's life will be considered one of the better performances. There is no emotional drama like Chak De India, Bhaag Milkha Bhaag, Paan Singh Tomar, or Mary Kom. This reduces the film's ability to leave a mark. The lack of conflict in the story is very bad. Saina and Kashyap's love story could be shown and if Kashyap himself is a champion player then his role could have increased a bit. After the injury, Saina's recovery process has also been shown very quickly. This film can be seen at home as a good film with family members, as a raw story of becoming a youth icon and to inculcate a love for sports to their children.