Realme TV (32 inch) can be brought home cheaply.
A 'prize offer' is being offered on Reality.com, the last day of which is May 21, and from here customers can buy Smart TV cheaply ….
Smartphone makers are now focusing on the Smart TV segment as well. In this, along with the budget smartphone, Reality Budget Smart TV is also available. The special thing is that if you are planning to buy a new smart TV, then there is good news for you, because Reality offers budget smart TV for customers. Also, smart TV is now being given the opportunity to buy more cheaply. According to information received from Realme's official website, a 'prize offer' is being offered on Realme.com, the last day of which is May 21. For information, let us know that a discount of Rs 1,000 can be availed by buying a 32-inch Realme Smart TV model in this cell, after which its price becomes Rs 14,999. Apart from this, you will get 10% cashback (up to 200 rupees) on payment from Mobikwik. Let's know how full specifications of this TV are.
(ALSO READ- Samsung's 6000mAh battery-powered smartphone becomes very cheap, will get triple camera and special features)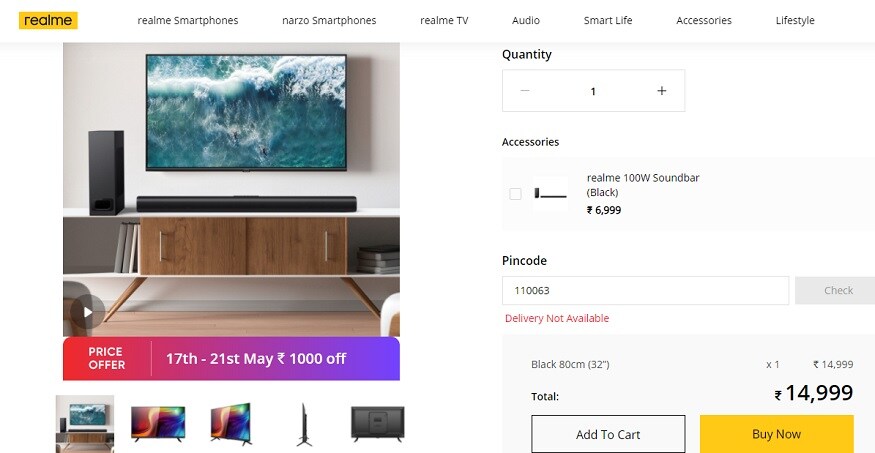 Reality TV is being discounted.
Will get Dolby Sound Realme's 32-inch Smart TV is of HD quality, while the 43-inch variant comes with FHD. Realme Smart TV has a fairly thin bezel of 8.7 mm and also has a quad core speaker of 24 watt output that supports Dolby Audio. These smart TVs have a MediaTek processor with 1 GB of RAM and 8 GB of storage. This Smart TV of Reality will support Chrome Boost Picture Engine Technology. Reality Smart TV will run on Android TV software, which also includes Voice and Netflix, Amazon Prime Video and Hot Keys for Google Assistant.
(Also read- 1.5 ton strong AC! Listing are available at very cheap brands like Samsung, Voltas, Carrier) Talking about connectivity, you will get 3 HDMI, 2 USB and a LAN, digital audio out and Bluetooth 5.0. It will have 7 display modes and will get peak brightness up to 400 units. The special thing is that Realme users will also be able to watch HDR 10 content on these smart TVs.