New Delhi. The Reserve Bank of India (RBI) has taken stringent steps by taking supervisory action against MasterCard Asia/Pacific Limited on Wednesday. RBI has restricted MasterCard from adding new domestic customers to its card network (credit, debit or prepaid) with effect from July 22, 2021.
The central bank has taken this action for non-compliance with the rules of local storage of payment system data. The bank said that despite giving ample time and ample opportunity, MasterCard has not fully complied with the guidelines on local storage of payment system data. The central bank has said that its order will not have any effect on the existing card customers.
The central bank has asked MasterCard to inform all card issuing banks and non-bank entities about this order. The central bank has taken this supervisory action against MasterCard under Section 17 of the Payment and Settlement Systems Act, 2007. MasterCard has been approved as a payment system operator under the PSS Act to operate the Carw network in the country.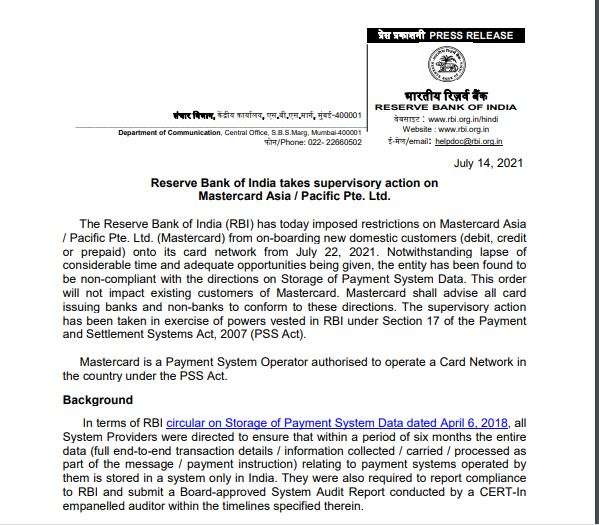 RBI imposes restrictions on Mastercard from issuing new card from July 22
RBI in a circular dated 6th April, 2018 had said that all system providers should have complete data (full end-to-end transaction details/ information collected/ payment instructions) relating to the payment systems operated by them within a period of six months. Has to be stored in systems located in India. They will have to submit its compliance report to RBI and also submit a board-approved system audit report by an auditor empaneled at CERT-In.
Read also: Farmers got a gift before the monsoon session, here the government announced farm loan waiver
this Too Read: Modi government gave a gift to central employees, will get this much salary in August
this Too Read: Bad news for Google users, the company stopped this service
this Too Read: Even China's friendship could not save this neighboring country of India, the clouds of crisis are hovering over the economy