Rajiv Gandhi Jayanti 2020: Youngest Prime Minister of India, know the full story behind the murder
Hello friends, today is the 76th birth anniversary of the former Prime Minister of India, Rajiv Gandhi. He was born on 20 August 1944 in Mumbai. Today, even though he is not among us, his vision still inspires us all. He studied at the prestigious Doon School in Dehradun. Rajiv Gandhi, who became Prime Minister at the age of 40, was the youngest Prime Minister of India.
About Life: Rajiv Gandhi
Rajiv Gandhi was born on 20 August 1944 in Mumbai. He was 3 when India became independent, and his grandfather became the first Prime Minister of North India. His parents immigrated to New Delhi from Lucknow. His father, Feroze Gandhi, became an MP. Who earned a reputation as a fearless and hardworking MP.
Rajiv Gandhi spent his childhood at Teen Murti House with his grandfather. He went to Welham School in Dehradun for some time. But he was soon sent to the residential Doon School in the foothills of the Himalayas. After this, he went to London in 1961 and got his higher education from the Imperial College and Cambridge University there.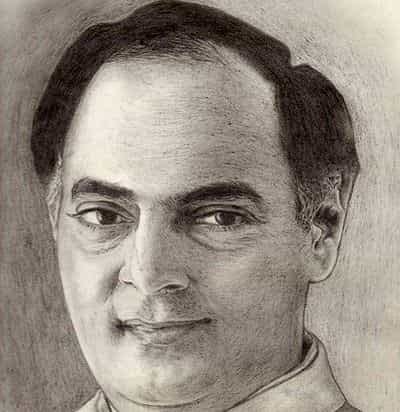 He was not interested in making his career in politics:
Rajiv Gandhi was not interested in making his career in politics. According to his friends, he used to have many books of science and engineering rather than books related to philosophy, politics, which is history. However, he was also very interested in music and loved to listen to photography and radio.
Rajiv Gandhi does a pilot job:
Rajiv Gandhi's air flight was his biggest passion. After returning home from England, he passed the entrance examination of the Delhi Flying Club and obtained a commercial pilot's license. Soon he became a pilot of the domestic national ship company Indian Airlines.
How did he meet Sonia:
Rajiv Gandhi met Sonia in a Greek restaurant in Cambridge. After which both of them fell in love with each other, and they married in 1968. He, along with his two children Rahul and Priyanka, stayed at Indira Gandhi's residence in New Delhi.
Rajiv Gandhi's death part of a more massive conspiracy:
Let us tell you that Rajiv Gandhi's death is part of a more massive conspiracy. On which the dispute remains. The accused involved in his murder are now behind bars. There have been politics from time to time regarding his release. On 21 May 1991, he was killed in a fierce bomb blast at Sriperumbudur in Tamil Nadu while campaigning in the general election.
Know what are the major decisions of Rajiv Gandhi:
Rajiv Gandhi took many decisions for the country as Prime Minister after the assassination of Mother Indira. Some were supported in these decisions, while some decisions remain controversial even today. The Bofors scandal during Rajiv's tenure is also a cause for discussion. Major decisions of Rajiv Gandhi.
* Rajiv Gandhi opened the sector of the economy.
* His visit to China in 1988 was historic.
* Voting age limit of 18 years and introduced EVM machines.