New Delhi: It is about the month of September of the year 2014. One evening at 7 pm, someone was eagerly waiting in the big hall of the bungalow of 3 Krishna Main Marg number in Lutyens' Delhi. It was a very special occasion for all the people sitting there because a special invitation was sent in this regard two to three days ago. Because of this, all the people present there reached there before the scheduled time.
Meanwhile, a car stops at the portico, from which the country's Prime Minister Narendra Damodardas Modi gets down. He was being received by the then Finance Minister (Late) Arun Jaitley himself. Without wasting time, the Prime Minister reaches straight to the hall where more than a dozen people were waiting for him. These were none other than journalists covering BJP for years. These included journalists from both print and electronic media. I was one of them.
People who are crazy about PM's humility…
Prime Minister Modi first greeted everyone in the hall with folded hands. After this very politely requested everyone to sit. This polite way of greeting him gave a pleasant feeling to the journalists present there. Generally, according to the habit of the journalist fraternity profession, a discussion or meeting begins with a question-and-answer and ends with a discussion.
The Prime Minister started the conversation from the earlier days of his Delhi residence. He said, 'I used to meet all of you in Delhi when I was BJP general secretary. I know some of you by name and some by face. But, some people are new, so if they get introduced first, then it will be easy to talk.
After this the process of introduction started. PM Modi took the name personally from everyone with keen interest. After this, whenever he got a chance in the meeting for about 2 hours, he addressed him by taking the name of every journalist. This is a small example of the personality of Prime Minister Modi.
PM changed the picture of the country
Not only this, whoever wanted to know freely and openly answered everyone. With his special thinking towards India, a firm determination to give a new direction to the development of the country and special consideration for the future, all of us were convinced that India would no longer be the India of the past. Governance, administration and even the common man will have to bring changes in himself.
Before I proceed further, I would like to share with you the incident of realizing a vision. This thing may seem very small in sight and hearing, but today we all countrymen are witnesses of how big and comprehensive the policy decision taken at the level of thinking will be its result.
The picture of the country changed like this
Once upon a time, Prime Minister Modi was meeting with ministers and officials regarding the progress of the national highway. The officials were giving information regarding the problem of land acquisition and construction. PM Modi, listening to the officers, interrupted them and put forward a suggestion. He said that can it not happen that whenever the highway is constructed in future, so much land should be left between the road on both sides, which is not being used. That is, earlier the road was built from both sides and the rest of the land was left like this on both sides. Later on it was encroached upon. Then to get it free, NHAI had to either go to court to get its own land or pay compensation. But, when there is an empty space in the middle of the road on both sides, then it will not be illegally occupied and there should be no obstruction if the road needs to be widened in future. Today, on the same suggestion of Prime Minister Modi, NHAI is writing a record of construction.
At the same time, after reading this, many people will definitely try to make fun of it that what was this decision at the level of the Prime Minister? These are the same people who had ridiculed PM Modi on August 15, 2014 when he talked about cleanliness campaign. But, what was its result today, the world is watching.
Clean India dream come true
Even if we have not been able to become Singapore in terms of cleanliness, which was mentioned by PM Modi himself. But even the fiercest opponents of PM Modi cannot deny that today the picture of India is no longer that of a country full of snake charmers and garbage. Today, whether we go to the village or in the city-town, a clear picture of cleanliness is experienced.
I would also like to tell the thinking of Prime Minister Modi regarding this. After the announcement of cleanliness from the Red Fort on August 15, 2014, the whole system started trying to find out how people reacted to it. I too experienced this. Shortly after the conclusion of the program of Red Fort, I get a call. A senior official of the Prime Minister's Office (who is no longer in this world) asked Lale, what is the situation? How was the speech?
When I first mentioned about cleanliness in the course of the conversation, he might have got a pleasant response. Because what is never discussed in this country and which has never been an issue for any leader or party, was announced by the Prime Minister in his first address on Independence Day. This appeal of PM Modi forced all the countrymen to think that in reality how much dirt do we live in and can this country really move ahead in cleanliness too? 130 crore Indians took the small initiative of PM Modi, the example of which is almost impossible to find earlier.
We have heard Prime Minister Modi in Parliament or even in public meetings that in the development of the country, small initiatives of the government and citizens give big results, which no one would have guessed.
Opposition also became 'Modi's admirer'
To be fair, even the opposition parties have no idea about the working style of the Prime Minister. Even though he criticizes the PM on many issues, there has been at least one subject on which he has no choice but to support him silently and openly. The Modi government had announced that they would formulate a 'New Education Policy' to make the future of students bright and for the betterment of parents.
The opposition parties felt that they were going to get just such an opportunity, from which the government could be laid siege. His thinking was that education policy would be nothing but saffronisation of education. Because by accusing the earlier BJP government i.e. Vajpayee government of saffronisation of education, a lot of politics happened! But, when the education policy of PM Modi came, even the opposition leaders did not believe it. Because there was nothing in it according to his wish. It was just a matter of student, teacher and education. That too of an all-encompassing education.
Now you should also know the story behind this, how this education policy was made and what were Prime Minister Narendra Modi's own efforts behind it.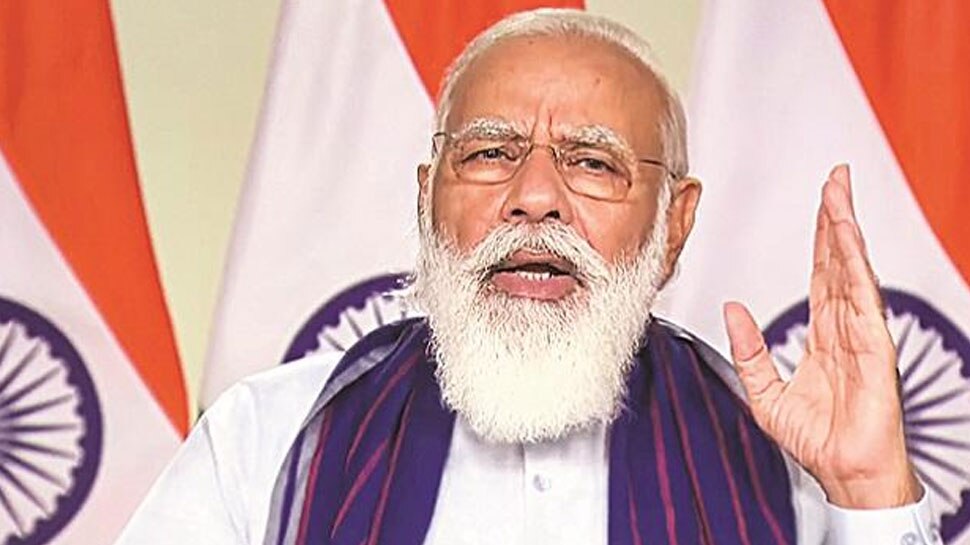 It can be guessed from this that the ministers of this department kept changing in the Modi government, but the direction in which the policy was to be made, it did not budge. More than 3 lakh suggestions were invited in this regard. He studied. The Prime Minister himself continued to review. Talked to all the stockholders. The Prime Minister held more than a dozen meetings with the top officials. After this, such an education policy has come in front of the country, which is difficult to criticize. The opposition governments of the states and the education world have also supported it. This is the thinking and working style of Prime Minister Narendra Modi.
A big personality who has worked with PM Modi for years believes that his own experience has also been behind his thinking.
Now take the example of Ujjwala scheme. PM Modi himself has also mentioned many times how he used to watch his mother cooking in the kitchen as a child. The whole kitchen was full of smoke. The Prime Minister has not only talked about his mother, but has also said that his heart becomes very sad seeing that crores of mothers are forced to cook food in the same way even today. This has to end. The result of this thinking is 'Ujjwala Yojana'. Taking lessons from that childhood experience, Prime Minister Modi freed crores of mothers of the country from smoke.
PM working tirelessly for 20 years
Referring to the Prime Minister's similar thinking and strong will to work relentlessly, a senior BJP leader, who was a minister in his cabinet for 7 years, says that Prime Minister Modi has divine power. Be it a cabinet meeting or a meeting of the council of ministers. In these hour-long meetings, PM Modi listens carefully to everyone. Wherever there is a need, you also keep your thoughts. The BJP leader said that his suggestion is such that neither the minister nor the officials can think about it. The senior leader said that one who has not taken a day off in almost 20 years as Chief Minister and Prime Minister, he will have divine power. BJP party has also experienced this power.
A former president says that elections are held in any state, whatever the party has been demanding from the Prime Minister for the rally, they never refuse. PM Modi himself, while addressing the workers on the victory of a state at the BJP headquarters, said that for them the party is like a mother. In such a situation, how can you reject the order of the party. We all have also seen that he has been campaigning continuously in the Vidhan Sabha elections. Not only this, after campaigning from morning till evening, they hold many meetings here as soon as they return to Delhi.
The former president said that we have all seen that elections were held in many states in the last one and a half years. After returning to Delhi after campaigning in these states, he has been holding frequent meetings regarding corona and vaccine. The result of this is also being seen. Can the opposition leaders, who have criticized PM Modi for the vaccine, deny that today about 77 crore population in the country has been vaccinated against corona and the mission of vaccinating the entire capable population may be done ahead of schedule.
When PM Modi got angry with this
He further says that those who criticized the Prime Minister for this are the same people who were crying about Rafale before the 2019 elections. At that time, during a session of Parliament before the election, Prime Minister Modi had also said in a 'meeting', 'There are such people. While opposing Modi, they started opposing the country. These people oppose the army. Oppose his bravery. They don't understand how important it is for our forces. There was a tremendous displeasure on his face about the Rafale atmosphere being created. Maybe that resentment was right. Had Rafale been there, Balakot would have been handled better!
Looking at such examples, it can be said that PM Modi has become well-versed in dealing with the situation and situation and in this he helps him immensely.
PM Modi has believed in connecting directly with people despite the danger and this connection is a reality and not a sham. Whether it is going to the Red Fort among the children or meeting people openly on the Rajpath after President Obama left the ceremony after the Republic Day parade in 2015. A similar example was seen in the BJP office in 2015, when the party organized a Diwali Milan program of the PM with journalists. More than 300 journalists were present there and the Prime Minister went and met all the journalists. Not only this, some were also asked about their movements by name. Told someone that you are probably retired. Asked someone ..my friend, what's up and shook hands smiling with everyone. Many of them were such journalists, about whom it has been said that they are anti-Modi, but even PM Modi did not face any problem in meeting them.
And Prime Minister Narendra Damodardas Modi had also said in September 2014 at the house of late Arun Jaitley that my opponents are doing their work and I am doing mine. The journalists involved in that meeting still remember that unforgettable meeting.
Later, taking leave from that meeting, Prime Minister Modi also posed for photos with everyone. Which has become a tradition nowadays. Even if it is not, when the Chief Minister of a state has become the Prime Minister by giving a new direction to the politics of the country on his own, then a picture is made with him. After all, a journalist is also a common man and as a citizen of India can take a selfie with his Prime Minister.
Zee Media's best wishes to Prime Minister Narendra Modi, determined to take India to new heights and cure 135 crore Indians.
The author Ravindra Kumar is Associate Editor, Zee News)
(Disclaimer: The views expressed in this article are the personal views of the author)