The second wave of Corona worldwide has started to wreak havoc. In most places including India, the figures of Covid 19 Peak which reached the peak by September, are once again on the upswing in the month of November. In the US (Corona Virus in US), the total number of infections has crossed the 1 crore mark and the number of deaths has exceeded 2.5 million. More than one lakh cases were registered in America in just one day. While it was believed that in terms of number of cases per day, India (Covid-19 in India) will be at the forefront this time. Along with this, there is a very worrying environment in Europe about Corona in Europe.
Experts had already predicted that the second wave of Kovid 19 would come and wreak havoc in the winter season. Despite this, the situation has become very serious in many countries. In terms of maximum cases, America, India and Brazil are the top three countries, while the rest of the countries in the top 10 are from Europe. Understand the data, how this second wave is being recorded worldwide.
read this also :- 2021 will be worse than 2020, why is it being said?
Delhi, Kerala most vulnerable in IndiaIf we look at the half-month figures till November 15, then more than 98 thousand cases were registered in Delhi, which was more than 25.5 percent as compared to October. More than 91 thousand new cases were found in Kerala, which was 21.2 percent more than in October. Maharashtra stood at number three, where there was not much difference as compared to October and in this month about 69 thousand cases were registered in 15 days. After this, new cases were reported in West Bengal, Karnataka, Tamil Nadu, Haryana, Andhra Pradesh, Uttar Pradesh, Rajasthan and Chhattisgarh.
News18 Creative
Delhi broke previous records
With over 7000 new cases and over 100 deaths in a single day, Delhi recorded record figures. The rapidly rising figures in Delhi have again created an atmosphere of concern and here the third wave is becoming serious. Delhi, which reached about one lakh new cases in November, has become one of the cities in the world where Kovid cases are growing fastest.
read this also :- Explainer: Who won the Armenia-Azerbaijan war and how?
Another havoc of Kovid in America
The outbreak of Ko Rona during the winter season is that in the last 24 hours in the US, about 2000 deaths have been recorded. Hospitals are running out of burden with the help of patients. America continues to be the top in terms of new cases every day and more than 1 lakh cases are being seen daily. On Wednesday, 1,55,000 new cases were registered. The biggest challenge facing President Joe Biden after Donald Trump's election is considered to be to deal with Corona.
And Europe is becoming a hotspot again?
After some relief in the last one to two months, the countries of Europe are once again plunged into anxiety. The country most affected by the Second Wave is France, where by November 15, about six and a half lakh new cases have been registered, which is more than 46 percent of the figures as of October. Similarly, cases in Italy increased by 76.7 percent as compared to October and around 5 lakh cases have been registered this month. More than three and a half lakh cases have been registered in UK and Poland this month. In the UK, more than double the cases have been reported so far.
read this also :- French company Dasha going to close Rafale shop?
In Spain, new cases have been seen a quarter times more than last month, while in Germany more than 52 per cent cases were seen till 15 November. In comparison, if there are equal cases of India in France, then in Italy, UK and Poland more than Brazil. According to the warning of epidemiologists, as the winter arrives, the trend of increasing infection in Europe has started rapidly. Lockdown and shutdown are coming again in many countries.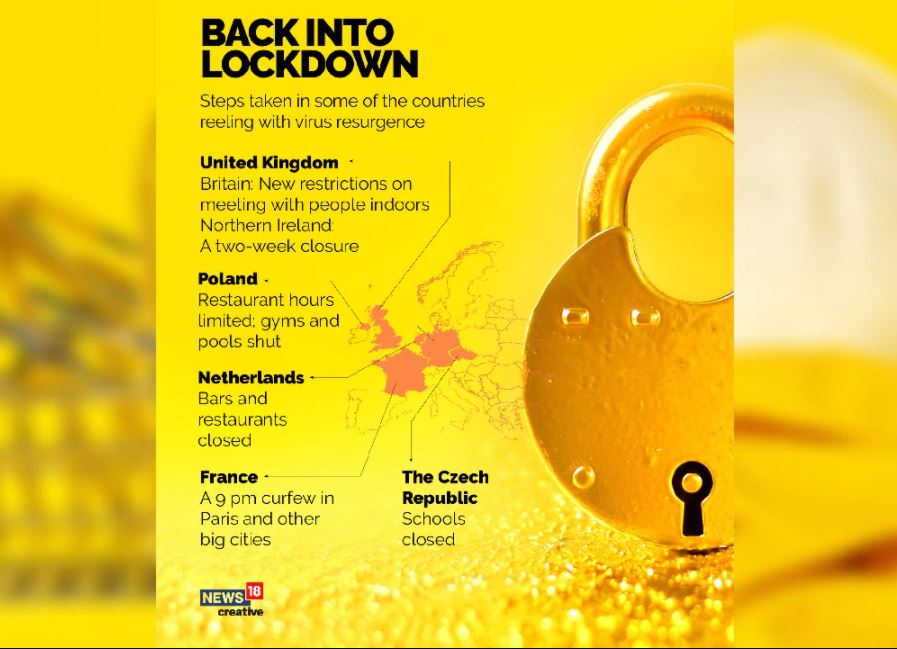 News18 Creative
On the one hand, there is constant news about the vaccine, on the other hand, in many countries of the world, the figures of infections and deaths due to second and third wave are going on unabated. It is clear from these numbers that unless the vaccine is actually provided on a large scale, the need to take all precautions related to Kovid with lockdown will be strictly present.
! function(f, b, e, v, n, t, s) { if (f.fbq) return; n = f.fbq = function() { n.callMethod ? n.callMethod.apply(n, arguments) : n.queue.push(arguments) }; if (!f._fbq) f._fbq = n; n.push = n; n.loaded = !0; n.version = '2.0'; n.queue = []; t = b.createElement(e); t.async = !0; t.src = v; s = b.getElementsByTagName(e)[0]; s.parentNode.insertBefore(t, s) }(window, document, 'script', 'https://connect.facebook.net/en_US/fbevents.js'); fbq('init', '482038382136514'); fbq('track', 'PageView');
.



Source link