The Mumbai Police raided the Barrel Manson pub in Vile Parle, Mumbai on Thursday night for the violation of Kovid-19 rules.
In view of the danger of COVID in Maharashtra, Mumbai Police raided a pub in Mumbai on Thursday night for violating the rules of Kovid-19. After raiding, after taking action on 230 people, the police registered a case against the pub owners, in which the case has been done, there are 180 customers and 50 pub employees.
Mumbai. The corona virus is spreading rapidly in the state. The increasing number of patients in Corona cases in Mumbai, Pune and Nagpur is a cause for concern. However, despite this, people are still not taking this matter seriously and negligence is coming up again and again. Another similar case came to light when the police raided a Mumbai Police pub on Thursday night.
Mumbai Police raided a Mumbai pub on Thursday night on suspicion of violation of Corona rules in view of the growing Corona infection in the state. After the raid, 230 people have been charged and the pub owners have been charged. Those in charge include 180 customers and 50 pub employees.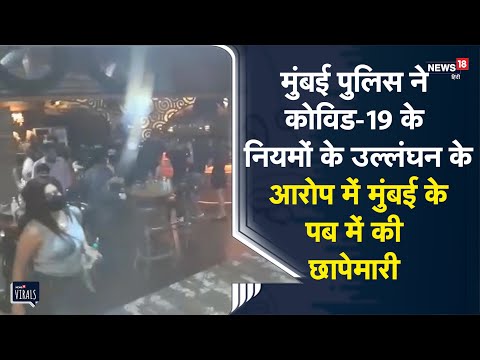 In many places in Mumbai, pubs are open till late even after the scheduled time. In addition, it is learned that there are incidents of non-use of masks along with social distance. For this reason, a pub was raided in Vile Parle, Mumbai on Thursday. This time many allegations were made for not following the Corona rules. This is not the first such incident in Mumbai. Police have clamped down on many pub owners and customers for violating Corona rules and running pubs longer than scheduled.