Mimi Movie Review:
The film 'Mimi', which shows the unique pair of Kriti Sanon and Pankaj Tripathi together, has been delivered on Netflix 4 days ago. This film was to be released on July 30, but 4 days ago, the makers have released this film, giving a surprise to their audience. Showing Kriti Sanon and Pankaj Tripathi together, this film puts in front of us a new form of motherhood. Many films have been made on motherhood in Bollywood and these films have been making us emotional at different levels. But 'mm' is completely different. The story of this girl who becomes a mother through surrogacy is full of comedy, drama, emotion and hence this film is a fun family entertainer.
Story: Mimi is the story of a Rajasthani girl Mimi Mansingh Rathod (Kriti Sanon) who is a wonderful dancer and is very beautiful. Mimi's dream is to become a heroine in Bollywood and to fulfill her dream, she has given more than 70 dancer performances and is adding money. Whereas Bhanu (Pankaj Tripathi) is a taxi driver who ferry foreign tourists. An American couple is looking for a surrogate mother for themselves and Bhanu introduces them to Mimi. Mimi agrees to do this work after hearing the amount of 20 lakhs. Even everything was according to Mimi's planning, but this American couple leaves the country after refusing to take their child from the pregnant Mimi. Now you have to watch the film to know what happens to Mimi and her baby.
Despite being one of the many films made on Motherhood, this film is very different. Mimi is raising a child in her womb who is not related to her. It was a professional relationship as a surrogate mother, but all of a sudden it gets mixed with emotions. Many women in India work as surrogates for foreign couples and due to poverty, it is very cheap for citizens of many countries of the world to do this work in India. But sometimes these women have to face a lot of trouble. 'Mimi' is a story showing one such problem of surrogate Marad.
Kriti Sanon's film 'Mimi' is a film on surrogacy.
Talking about the performance, Kriti Sanon has given the best performance of her career till now through this film. Whether it is a matter of confidence or emotions, Kriti has been seen giving life in every scene of the film. In the film 'Bareilly Ki Barfi', Kriti was seen in the role of Pankaj Tripathi's daughter, while the chemistry of Kriti and Pankaj in this film is completely different. But in both the films, both these actors have been strong in their respective roles. Pankaj Tripathi is no less than a magician in his fun and the simplicity with which he manages to excel in his character is amazing. Seeing Pankaj Tripathi in many scenes in this film too, you will not be able to stop your laughter. Manoj Pahwa and Supriya Pathak are in the character of Kriti's parents and seeing them, you will also feel that such parents should be there.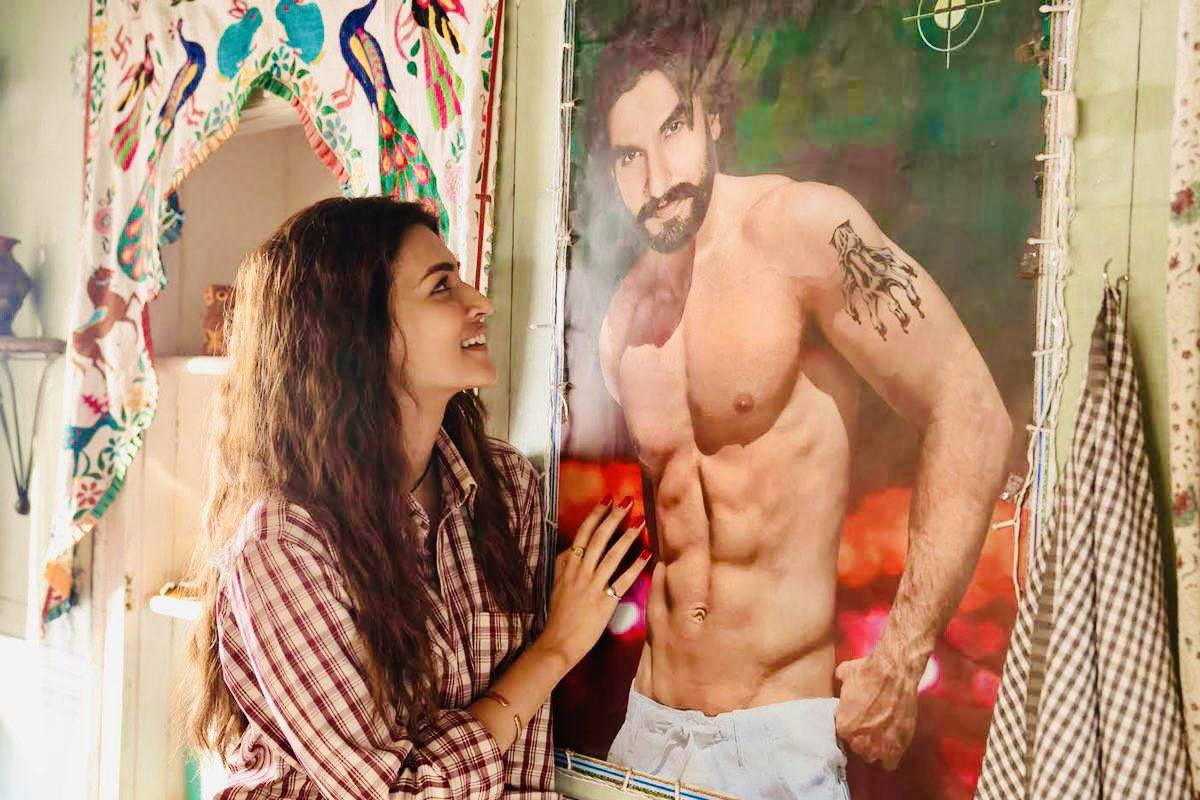 Kriti Sanon is seen talking to Ranveer Singh's poster.
The first half of the film is very funny and tight. The story progresses wonderfully. You will laugh a lot in the first half, but the second half will make you emotional. 3.5 stars from my side to this movie.
Read Hindi News online and watch Live TV News18 on Hindi website. Know news related to country and abroad and your state, Bollywood, sports world, business.