Offer is being received on Tata Sky's recharge.
If you are going to recharge too, then today we are telling you how you too can take advantage of this Tata Sky cashback offer. This will save you a lot of savings.
If you are also going to recharge your DTH Tata Sky Recharge, then you are being given a great opportunity. This is because under the offers on Tata Sky, subscribers can make a huge budget. With the help of Tata Sky offer, Tata Sky Subscribers can get a cashback of up to two months. How long the offer will be available: It has been revealed from the listing on the company's website that this offer is valid till 31 March 2021 only. The benefit of this Tata Sky offer will be available only to those subscribers who will get 12 months recharge simultaneously.
How to get the offer: First of all keep in mind that you will be able to get cashback only when you recharge the account through Tata Sky website or Tata Sky mobile app.
(Also read- Samsung's 7000mAh battery with 7000mAh battery cheaper, 64 megapixel camera will be available)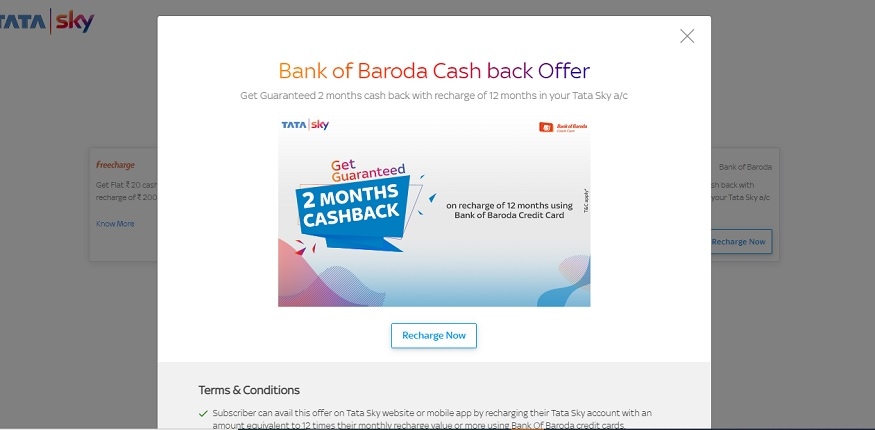 Cashback offer is being offered on Tata Sky.
Not only this, the other condition is that cashback can be found on recharge only when customers use Bank of Baroda credit card for recharge.
(Also read- These 5 powerful features are coming on WhatsApp, from the application of password to multi-device support in chat)
According to the information given on the official website of the company, if you do not know the exact amount, then you can enter any small amount, such as put 100 rupees. The correct amount of annual recharge of eligible subscribers will be visible to them. After this, you use the Bank of Baroda Credit Card by entering the correct amount and making the payment.
For information, let us know that the customers who have been recharged from the annual or 6-month pack, will not be able to take advantage of the offer even after recharging on the day of Tata Sky account activation.