New Delhi. The second wave of corona in the country is still not over. In some states of the country, a large number of new cases of corona are still being reported daily. Not only this, after the arrival of monsoon in the country, the risk of Dengue, Malaria and Chikungunya has also increased. As far as Delhi is concerned, 29 dengue patients have been reported here from January to May, which is more than the last three years.
If health experts are to be believed, diseases like dengue, malaria and chikungunya can create new trouble during the third possible wave of corona and cases coming out in the second wave. Apart from these, cases of viral fever and flu also go on continuously; However, if precautions are taken regarding Vector Borne Diseases at the level of administration and common people, then the situation can remain fine to a great extent.
Dr. Satpal, a retired public health expert from the National Center for Disease Control (NCDC), says that since last year there is an outbreak of corona epidemic in the country, although some major diseases due to corona cannot be ignored. Every year dengue, chikungunya and malaria cases come across the country during this season and their chances are still there. The rainy season has just arrived, in such a situation, along with the possibility of a third wave of corona, the challenge of dengue, chikungunya and malaria is also in front.
Last year, a total of 39419 dengue cases were reported across the country, which was much less than the year 2019 but also the lowest number of cases after 2015.
Dr. Satpal says that last year a total of 39419 dengue cases were reported across the country, which was much less than the year 2019, but it was also the lowest number of cases after 2015. However, looking at those figures, it is also possible to infer that due to the lockdown due to Corona last year and all the covid-compliant behavior, people paid special attention to cleanliness.
They say that last year people were alert not only about corona but also about any disease, besides taking measures to increase immunity and vigilance. Even the people were constantly being made aware by the government, which had the effect of reducing mosquito-borne diseases.
However, if we talk about this year, then it is different from last year. There is no lockdown yet, people are also easing in taking precautions than before, whether it is about Kovid or other disease. This year till May 31, there have been 6837 dengue cases in the country, which is very less as compared to the previous years, but the number of dengue patients has increased in Delhi as compared to last year.
Dengue patients increased in Delhi compared to last year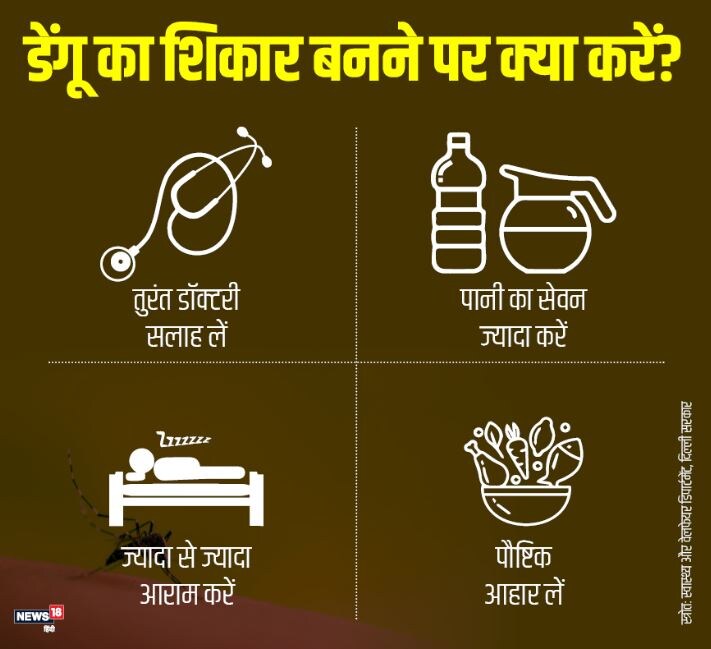 Delhiites have no respite from the menace of Malaria, Chikungunya and Dengue, (symbolic)
Dr. Sujit Kumar Singh, the current director of NCDC, says that this year, 29 dengue patients have been reported in Delhi from January to May 2021, which is the highest in the last three years. The South Delhi Municipal Corporation's report on Vector Borne Disease states that dengue cases in 2020 were 19 till May. There were 11 cases in 2019 and 22 in 2018. In such a situation, it is certain that this time the number has increased in Delhi.
Dr. Sujit says that since the corona is an epidemic, the focus is definitely on it, but it is also necessary to pay attention to diseases like dengue or malaria, otherwise it can become difficult. For this, measures should be taken to remove the accumulated water in the cities as well as to kill the mosquitoes born in the dirt in the rural areas.
At the same time, Dr. Satpal says that during the first and second waves of corona, in some private hospitals of Delhi, such patients had come to the fore, who also had corona and also got infected with dengue. Such cases had become very critical and treatment of such patients is possible only in the hospital. In such a situation, it is also a big challenge not to allow the mix of dengue and corona to flourish in any way.
Dengue in cities and malaria in rural areas
At the same time, an expert associated with the National Vector Borne Disease Control Program (NVBDCP) of the Government of India says that the risk of dengue in urban areas of India while malaria is more in rural areas. The southern states of the country and north-central India also have the highest number of dengue cases. This is the reason that in cities, special focus is given to remove the larvae that grow in the clean water filled in coolers, ACs or pots of houses.
Read Hindi News online and watch Live TV News18 on Hindi website. Know news related to country and abroad and your state, Bollywood, sports world, business.