Girl made video after father's murder. (Photo Credit-YouTube)
Their parents were becoming a hindrance in the love story of the girl and the boy. In such a situation, the girl, along with her boyfriend, murdered her father with knives (Teenager Girl 16 with Boyfriend 18 Murdered Father) and tried to burn the dead body at home.
What a teenage couple did, it is going to fill any society with terror. Children whose parents spend their whole life in grooming, the same children sometimes do such things that those who see and hear cannot believe it. Something similar happened in Las Vegas, USA. Here only a 16-year-old girl (Teenager Girl 16 with Boyfriend 18 Murdered Father) along with her boyfriend killed the father. After the murder, he went on vacation and by making a video (Laugh in Youtube Video after Killing Dad) himself announced that he had put his father to death.
The name of the girl who carried out this incident is Sierra Halseth. The girl is only 16 years old while her boyfriend Aaron Guerrero is 18 years old. The girl lived in Las Vegas with father Daniel Halseth. No one knew about this act of his till he himself made fun of his father's death by coming on YouTube channel.
Daughter laughing at father's murder with boyfriend
The girl appeared with her boyfriend (Teenager Girl 16 with Boyfriend 18 Murdered Father) on her YouTube channel. Both were seen laughing and joking about the fact that they had killed the girl's father. He laughs and says – 3 days have passed since someone was killed and points 3 fingers towards the camera. Meanwhile, Sera Halseth shouts with joy not to say it in front of the camera. On this the boyfriend says that – he was worth it, on which the girl consents. In the video, the teenage couple is seen lying together in a tent. The two are having a lot of fun and they don't even feel sorry for what a terrible thing they have done.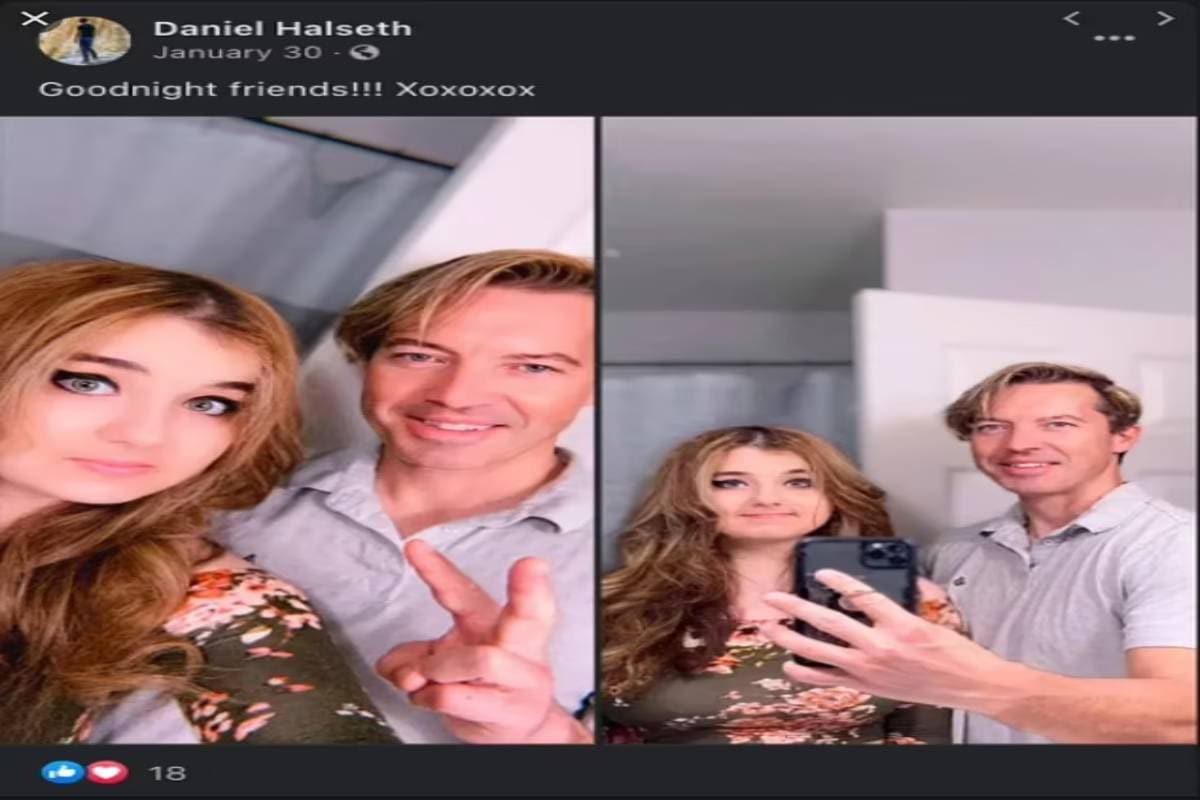 Sera Halseth with her father.
police arrested
Police arrested him from Salt Lake City soon after receiving this video. The police have also found the burnt body of Sera's father, which was in his house. Police say that both of them had made complete arrangements to burn the dead body after the murder, so that no one would know anything. He also used a saw to cut the dead body.
Also read- Woman told a very easy tip to get long hair, the length of her own hair is 4 feet
Boyfriend can be punished with death
Since Sera is 16 years old, she cannot be sentenced to death for murder, but the sentence of her boyfriend is being considered. After this whole incident, Guerrero's family came looking for him and told that they had been looking for him for several days. It is believed that the teenage couple ran away after the incident.