New Delhi. The Modi government has achieved the achievement of completing the treatment of 2 crore people under the Ayushman Bharat-Pradhan Mantri Jan Arogya Yojana (AB PM-JAY). The Health Ministry claims that poor people have benefited more than Rs 25,000 crore from this scheme so far. The country's Health Minister Mansukh Mandavia said on the occasion of the achievement of completion of treatment of 2 crore people under this scheme on Wednesday that these are the same people who are unable to get their treatment properly due to poverty. Were. Among the 2 crore people who got treatment under this scheme by getting hospitalized, there were many people who were facing such diseases which could even kill their lives. This scheme has done the work of giving new life to many people.
Ayushman Bharat Yojana was launched on 23 September 2018
Let us inform that on 23 September 2018, PM Modi started Ayushman Bharat-Pradhan Mantri Jan Arogya Yojana from Ranchi, the capital of Jharkhand. At that time the PM had said that through this scheme, we want to make an India where every citizen is healthy and the expenditure on health services does not become a burden on the citizens.
This scheme has given new life to many people – Mandaviya
Health Minister said this on this occasion
Mandaviya said, 'When this scheme was launched, till that time health was not a priority for many people. But, it was the prime minister's foresight that he conceived such a plan and implemented it. Today, when the whole world as well as our country India is also facing the wrath of the Kovid-19 epidemic, then everyone is now feeling the usefulness of this scheme.
World's largest health insurance scheme
Mandaviya further said that PM-JAY is the world's largest health insurance scheme. The number of its beneficiaries is more than 55 crores. In countries like India, it has been seen that the expenditure on healthcare becomes a huge burden on ordinary families. Especially people from poor families have to take loans for treatment. Women have to mortgage their jewellery. We all must have seen and heard that people have to sell their land and property for treatment. Life saving savings take away disease in a jiffy. This scheme, started on the initiative of the Prime Minister, has worked to remove the pain and suffering of such people.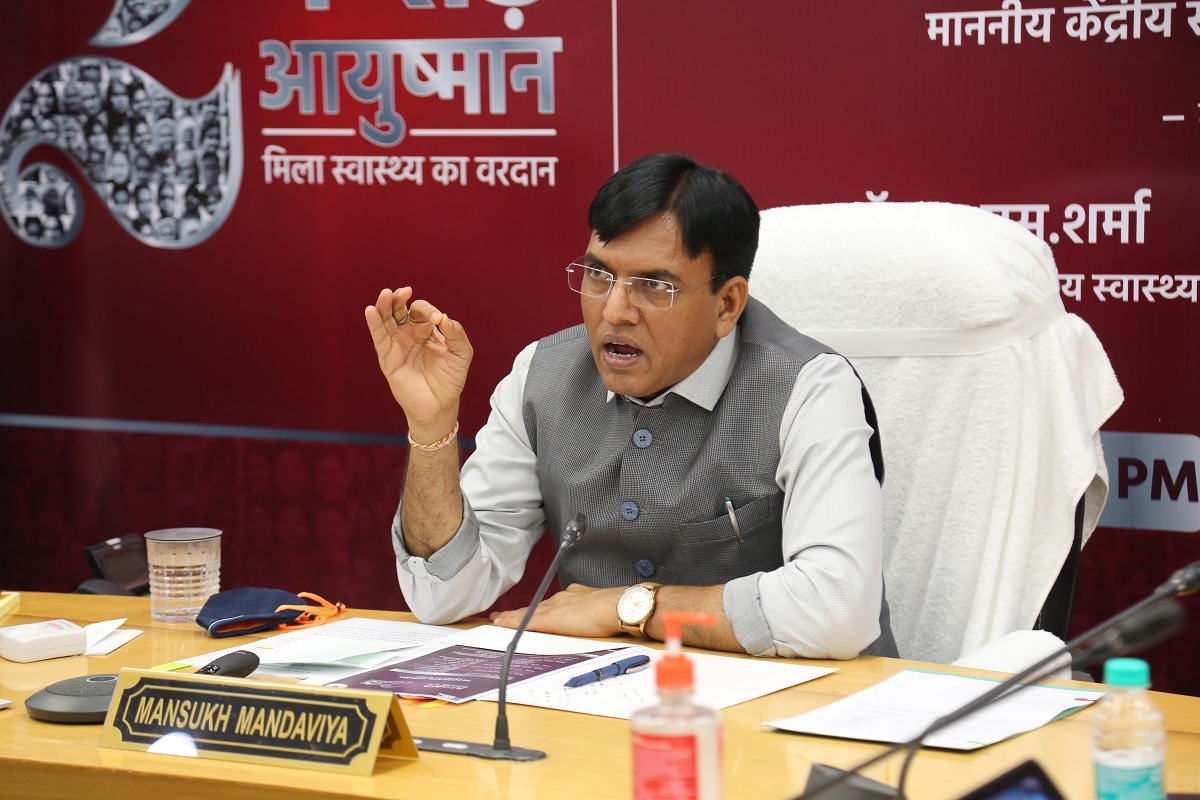 Mandaviya further said that PM-JAY is the world's largest health insurance scheme.
Women at the forefront of making Ayushman cards
Let us tell you that about 50% of the people who have got Ayushman cards are women. Of the people who have been admitted to the hospital, 47% are women. Under PM-JAY, 141 such medical procedures have been included, which are only for women. Women are not only the beneficiaries of this scheme but are also playing an important role in the implementation of this scheme. From ASHA workers in rural India and Arogya Mitras in hospitals to heads of many health agencies in the state, women are also playing an important role in the implementation of this scheme.
Big achievement achieved after corona epidemic
Mandaviya said on this occasion, 'So far, about 16.50 crore beneficiaries have been issued Ayushman cards under this scheme. This achievement has been achieved when we are facing the corona epidemic for the last one and a half years. Ayushman Bharat PM-JAY will increase in the coming days and take the form of a mass movement with public participation. We should think that in its implementation how can we take the cooperation of different sections of the society in spreading awareness about it.
Ayushman Bharat, the world's largest health scheme, was started from Ranchi.
Also read: The arrival of Taliban in Afghanistan will affect your pocket too! These food items including dry fruits started getting expensive
On this occasion, the Health Ministry announced to launch two more schemes related to this. First, 'Ayushman Mitra' was launched. Through this, such people will come forward who will not only spread awareness among the people about this scheme but will also tell people how to take advantage of this scheme. At the same time 'Ayushman Adhikar Patra' was also launched. It will tell the entitlement of the beneficiaries. Under this, when the beneficiaries go to the hospital, they will come to know about their rights and facilities only at that time. This will increase the confidence of the beneficiaries and they will be able to get quality treatment in the hospitals covered under this scheme.
Read Hindi News online and watch Live TV News18 on Hindi website. Know news related to country and abroad and your state, Bollywood, sports world, business.