New Delhi. Amitabh Bachchan, who is called the superhero of Bollywood, is celebrating his 79th birthday today. On this occasion, all the Bollywood stars are congratulating him on his birthday. Amitabh Bachchan's birthday is no less than a festival for his fans. His fans are wishing him a happy birthday on social media. At the same time, some fans have been desperate to get a glimpse of him outside his house.
By the way, Amitabh Bachchan prefers to spend time with his family on the occasion of his birthday and avoids cutting cakes and any kind of fanfare. But now in the pictures that have surfaced, he is seen breaking his tradition and cutting the cake.
Also read: Rajesh Khanna advises daughter Twinkle Khanna to make 4 boyfriends together for this reason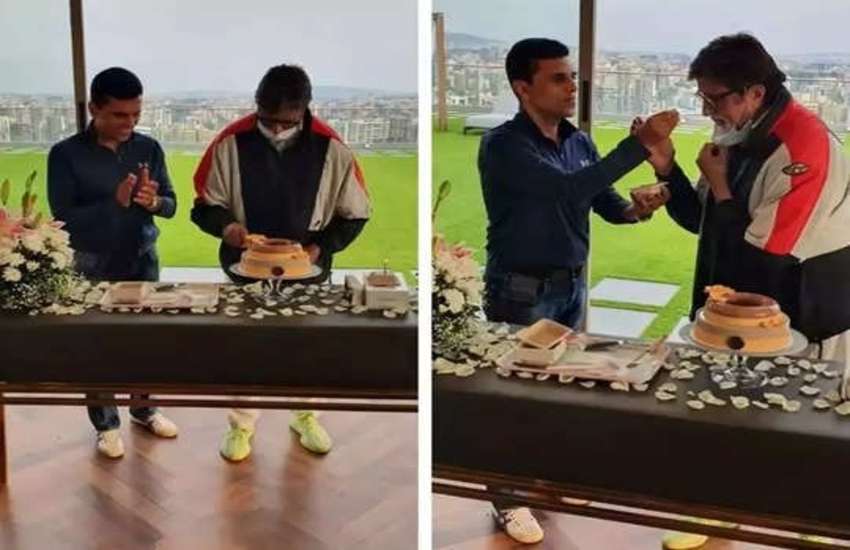 Actually, Amitabh Bachchan lights a lamp on the occasion of his birthday. But he cut the cake for his friend and producer Anand Pandit. Anand Pandit said for Big B, 'It is difficult to give Amit ji some gift that can do justice to his stature but the success of Chehre has made him very happy and I have also got happiness. He is just a cool and in a way a perfect gift for them.'
Also read: When a move by Jaya Bachchan defeated Rekha, the relationship with Amitabh Bachchan broke forever
After that Anand Pandit said, 'Usually he likes to light a lamp on this special day but this time he cut the cake considering the eagerness of the team. The kind of person he is, I guess he didn't want to disappoint them. He felt the team wanted to thank him for being the face and part of our lives.